"Keep your eyes open and expand your view" when you visit the Canary Islands' fourth largest island so you don't miss a thing.
If you don't know what to see and do in Lanzarote in 5 days, make this complete guide your own, which we put at your disposal with the most emblematic places where it is worth stopping by.
So that you don't "get lost" and leave nothing in the pipeline, we've put together a list of must-haves. Lanzarote is an island in the province of Las Palmas in which you will find some of the most unique places in the Canary Islands and landscapes that seem borrowed from other worlds.
What to see in Lanzarote in 5 days of travel
One of the priorities that every visitor meets with satisfaction is to try the exquisite and famous Canary Islands gastronomy. Savor delicacies like picón mojo, dads wrinkles, the boiling gofio or the Canarian stew, we assure you that you will not "look like a war".
If you are in Lanzarote you cannot miss the best excursions on the island.
It is also good to enjoy outdoor activities, something what to do in Lanzarote in several of its corners. Hiking, surfing, beach sports … You will have endless possibilities at your fingertips. Really, whatever you want, you can find it on this island. So now we are going to focus on the most important places.
Timanfaya Park
Fire, ash and rock merge into this Eminently geological national park, which retains many vestiges of the volcanic eruptions that occurred on the island in the early 18th and 19th centuries. You will be overwhelmed by the wide range of colors that give the area a unique character, black, orange, ocher, red and brown tones.
Timanfaya is a volcanic area devoid of vegetation cover and occupies a quarter of the island's territory. Get closer to Cultural and Tourist Center of the Fire Mountains to learn a little more about the history of volcanism in Lanzarote and complete the 14 km Volcanoes Route by "bus", which starts there.
A visit to Timanfaya Park is a must among the things to do in Lanzarote with children. Also, very near here you can give a camel ride they will love it.
Grotto of the Greens
Agüita! you will repeat in amazement as you enter this volcanic structure that is in the municipality of Haría, in the north of the island. In this cave a mythological aura is perceived and it is loaded with multiple legends. It is without a doubt one of the richest cultural and natural heritages of Lanzarote.
The Grotto of the Greens, It is one of the must-see places to see in Lanzarote in 5 days.
It is part of the volcanic tube born from the eruption of the La Corona volcano, in the heart of the island. is natural sanctuary of rich landscape beauty It has become a place of pilgrimage for the thousands of tourists who visit this corner of the Canary Islands. You will have the opportunity to take a guided tour in which you will learn all the secrets of this cave.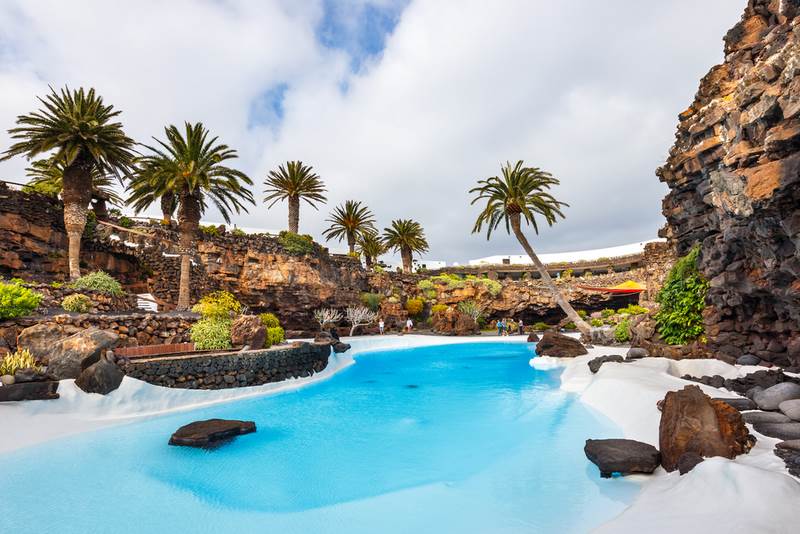 Jameos del Agua, one of the best to see in Lanzarote in 5 days
Since you are in Haría, take the opportunity to visit this center of art, culture and tourism located in a beautiful natural space. A unique corner in the world designed by César Manrique where peace, quiet and harmony are at ease. In Jameos del Agua you will live an extrasensory experience without comparison.
Enter the tunnel of Atlantis, bathe in the pools with turquoise water, mix with its plant and animal richness, walk through its auditorium so original and at the same time unique by its characteristics, and walk all the paths of a paradise that invites introspection.
Vineyards of La Geria
In this volcanic region, you will also be surprised by observing the vines that are planted there, and which are unique in the world. Some fruit trees are also cultivated, such as the fig tree. Those vineyards of the malvasía variety Hidden in picones, they produce an exquisite and authentic wine which is very characteristic of Lanzarote and is worth trying.
Island of La Graciosa, a must to visit in Lanzarote
Something else what to do in Lanzarote in 5 days It is almost obligatory to visit "the eighth island", located in the archipelago of Chinijo with other islets such as Roque del Oeste, Roque del Este, Alegranza and Montaña Clara. They are all part of the municipality "conejero" of Téguise. Heavenly beaches, small volcanoes and white villages await you in what, for many, is "the 'best kept secret' of the Canary Islands.
Viewpoint on the river
This is another work by César Manrique located in the Risco de Famara at an altitude of 400 meters. It is one of his most representative architectural creations with the adaptation of the Cueva de los Verdes and the Jameos del Agua. It is worth going up to this viewpoint to enjoy the impressive panoramic views of the island. A place that perfectly integrates art and nature, where the original sculptures hanging from the ceiling will hold your attention.
The beaches of Papagayo, a place to visit in Lanzarote
You will not want to "send to move" from the Lanzarote Island when you step on it for the first time desert area located in Punta de Papagayo, in the south of the island, where you will find beautiful beaches and coves, in the Los Ajaches Natural Park. You can access by car or boat to relax in places like Mujeres Beach, Caletón de San Marcial, Playa de la Cera, Caleta de Congrio, Puerto Muelas or Bajo el Risco.
Haría and César Manrique House-Museum
North of Lanzarote is Haría, a municipality that we have already discussed in this article. During your visit, take the opportunity to walk around the city, and stop at the César Manrique house-museum, located in the middle of an extraordinary palm grove and this was his place of residence until his death in 1992. Manrique is considered the most recognized Canarian painter, sculptor and artist.
Los Hervideros
A place what to see in Lanzarote These are the Hervideros. In these grooves, which are west of TimanfayaYou will be surprised by the natural spectacle that occurs when the sea is rough, and hits the caves that you will see at your feet. Los Hervideros It is a work of art of nature that was produced hundreds of years ago, when waves carved volcanic lava that reached the water, now turned into hard rock, praying to it until 'that these caves are open.
The green swimming pool
You will remain like a "machango" to contemplate the beauty of this small lagoon formed by the filtered sea water which acquires very characteristic green tones, in the Volcanoes Natural Park. the Charco de los Clicos, as it is also called, is located in El Golfo, a small fishing village in the municipality of Yaiza. Its scenic beauty is unique.
Cactus garden
Between things what to see in Lanzarote, is the Cactus garden. Manrique's last intervention in Lanzarote was this one cactarium that it was an old "rofera" located in the tuneras area of ​​Guatiza, in the municipality of Teguise. Currently, it is home to around 4,500 different species of cacti grouped into 13 families, belonging to 5 continents.
Santa Bárbara Castle or Piracy Museum
Piracy has had a huge influence on the history of Lanzarote, so, "chacho", you can't miss the Santa Bárbara Castle, where the Piracy Museum is located. This fortress rises in the Guanapay volcano, in the Villa de Teguise, and its construction began in the 14th century by Lancelotto Malocello, a Genoese navigator from whom Lanzarote took its name.
City of Teguise
Take advantage of your visit to this small town of Lanzarote to enjoy other places such as the beaches of Las Cucarachas or El Jablillo. Declared Historical and artistic architectural complex, Teguise is a place where a large part of the tourism that visits the island is concentrated. The Royal Residence of La Mareta, the Hermitage of San Rafael or the main Church of Our Lady of Guadalupe are other of its attractions.
Peasant House Museum
Manrique's legacy in Lanzarote is impressive. "Add mojo!" You cannot imagine the special atmosphere that is breathed in this place located in San Bartolomé, a town in the heart of the island. It is a tribute to the peasant of Lanzarote and his struggle to give life to a territory in such difficult conditions, which is completed by the Monument to Fertility. To visit this house-museum is to take a trip through the oldest traditions of the "rabbit station".
José Saramago House-Museum
Don't leave without visit to Lanzarote the house of the Portuguese Nobel laureate, which is located in the town of Tías and remains open to the public. It houses a library a large garden planted with olive trees, and was inaugurated by his wife, Pilar del Río, nine months after the death of the writer. It is "a house made of books" where you will take a journey through the life and trajectory of Saramago.
San José Castle
In this historic fortress located in Arrecife, you can visit in Lanzarote the International Museum of Contemporary Art, located inside. the San José Castle It was built between 1776 and 1779 on a cliff above Puerto de Naos. It is also known as the Fortress of Hunger as it served as a refuge for locals in times of famine, drought and pirate attacks that hit the island.
Visit each of the destinations we offer to answer the question:what to see and do in Lanzarote in 5 days? you will have known the most important of this island. With our guide in hand you will make the most of your stay. Enjoy the experience and "change your wig"!